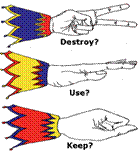 Leaving the University ?
Your Records and Your Responsibilities
It is important that all RGU staff recognise that all records generated or maintained by them in the course of their work are the property of the University. These include:
Paper documents
Electronic data
Audio-visual material and e-mail
---
It is equally important that all staff realise that they have a duty of care to the records which they generate and maintain, and staff are required to manage the records responsibly and to dispose of them properly when they are no longer needed.
Your Records and Business Continuity
Interruptions to business are caused as much by loss of staff, whether through resignation, retirement or long-term absence caused by illness, as by major disasters.
Where no procedures are in place to ensure continued access to, and processing of, important information following the resignation or retirement of staff, efficient business processes will be compromised and time will be wasted by new or remaining staff as follows:

Trying to find the location of important documents. For example, on which computer drive, on which server, in which filing cabinet, or whether the documents are being used by another member of staff.
Trying to find out the content of documents which have been left behind where no file list has been created.
Trying to establish whether all e-mails of importance have been dealt with.
Trying to find out what levels of confidentiality were in force and who else is authorised to have access to information.
Trying to establish what procedures were being followed and what stage projects have reached where no handover notes have been drawn up and left behind.
---
Procedure for dealing with your Business Records when you leave the University
Records Management has produced guidance for all staff leaving the employment of the University covering the following topics:
1. Your records and your responsibilities
2. Your records and business continuity
3. Your records and legal compliance
4. Your records and disposal by either destruction or transfer to the University Archive.
5. Your records and handing over to your successor
6. Action checklist to be followed by all departing staff and respective Line Managers.
The Human Resources Department are responsible for issuing a copy of the Prodcedure on receipt of a Resignation letter, or at the end of a Contract. Please click below to view the document.


Procedure for dealing with your business records when you leave the University
Last updated 11.03.13(KGF)